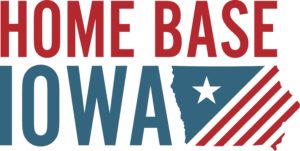 Veteran Services
Ellsworth thanks you for your service to our country! We're proud to be a Home Base Iowa school, and we'll do everything we can to help you transition to life after the military.
New Student Veteran Admissions Process
Apply for admission to Ellsworth!
Send all prior transcripts, including military transcripts, to ECC Admissions.
Apply for financial aid and scholarships!
Register for classes. You'll be contacted by your advisor to do this once you're accepted!
Bring the following to ECC's VA Coordinator:

Copy of DD214
Copy of 22-1990, 22-5490, or Certificate of Eligibility from VA
Copy of class schedule
Scholarships
The Ellsworth College Foundation and Trustees provide more than $800,000 in scholarships for students at ECC. The Greg Hodak Scholarship is specifically for veterans; it can be coupled with other scholarships to offset costs for tuition and fees. The Iowa Falls community also offers the American Legion Scholarship and the Grace Hibner Scholarship (medical field) for ECC students with military backgrounds!
Contact the ECC Foundation Office for more information, and apply for the Greg Hodak Scholarship here! (Check "ECC Endowed Scholarships" at the top and specify "Greg Hodak.")
Tuition & Fees
Ellsworth offers flexible payment arrangements for our veteran students and military family members. Students can charge books and supplies at our campus bookstore with proper verification of military status. We work to ensure you have funding in place to cover books, fees, and anything covered by the GI Bill. Contact our Veterans Benefits Coordinator for more information!
Veterans' Study Spaces & Support
Ellsworth's Osgood Library has several designated spaces for our veteran students to meet. These spaces provide a quiet place on campus to study or collaborate with others. There are also computers available to use to sign up for benefits or work on class assignments.
Contact our Veterans Academic Coordinator for more details on our Veterans Services Support Group!
Military Deployment
We appreciate the important contributions of our students who have served or are currently serving in our military. If a service member student is called into service for the U.S. military, ECC will refund or credit all tuition and fees to the student's account upon request from the student and/or the student's spouse, if the student has a dependent child.
Documentation of military leave and/or medical treatment provided to the VA School Certified Official will be considered a leave-of-absence request.
If a service member student is called into service, the student and/or the student's spouse, if the student has a dependent child, may determine class grades with faculty based on the work they have completed. Depending on the student's unique circumstances, the student can also choose to be issued an incomplete grade.
If a student chooses to withdraw from school due to lengthy military training obligations or extended medical treatment during the semester, they should contact the VA School Certified Official to initiate the Military Activation withdrawal and any other necessary procedures.
Other Resources